The Launch Pad is a feature at the beginning of the software that makes using UTS fun and easy to use. From the launch pad you can do everything from starting a new return to connecting with technical support via the Show My Screen button. Lets get started. 
1.The start a new return but is where you can start new return instantly by clicking the button and entering in the new SSN or EIN.
2.The open a return button is where you can open returns that have already been started.
3.The send returns button is where you can send your e-file that have already been created off to the efc.
4.The Gets acks & updates button is what you'll use to bring in all of your acknowledgements and module updates.
5.When using our premium software the Print checks button is what you'll use to print your checks once you've brought in you check authorization ack.
6.The reports button where you'll go to look at your look at all of your acknowledgements,client list etc...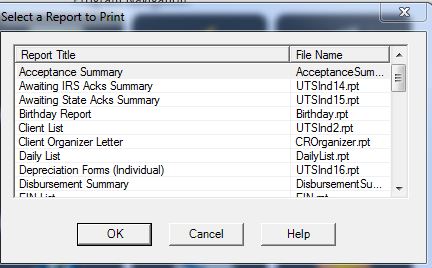 7.The process ack button is where you'll be able to open up your acks and print them out.
8.The show my screen button is where you'll connect with UTS Tech Support by running the program team-viewer and giving us a call to give us your TeamViewer ID and Password. (This is a last resort option and will only be used by the technician if all other troubleshooting options have been exhausted.)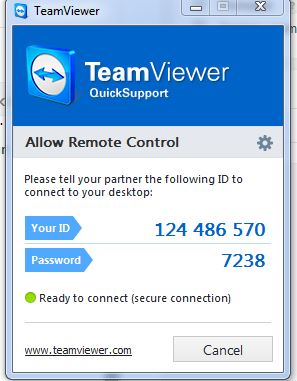 9.The change users button is where you'll be able to switch from different user accounts that you created in the setup assistant.
10.The conversions button takes you to your customer portal conversion page where you'll be able to download conversions from different tax software to UTS.
11.The change package button is where you'll be able to seamlessly change your return packages. ex. from 1040 to 1120S
 Other Helpful Links:
Other helpful links are also included, such as the Where's my refund button which takes you to the IRS website to check on your clients refunds. The IRS news & updates buttons is a link that takes you to the IRS news page that provides critical news and updates to the Tax preparers and taxpayers. The IRS e-services button is a link that takes you to the an IRS page that gives you access to E-services provided by the IRS and other tax related programs.
  Other Resources:
The other resources buttons include the My UTS customer portal which is a link to your customer portal, and we have our solution center. The solution center is our knowledge base where you can type in some keywords and it'll bring up the most relevant articles to your search and also soltutions to any problems you may have. If you do not see your issue/solution in the solution center, please let us know and we will do our best to get it added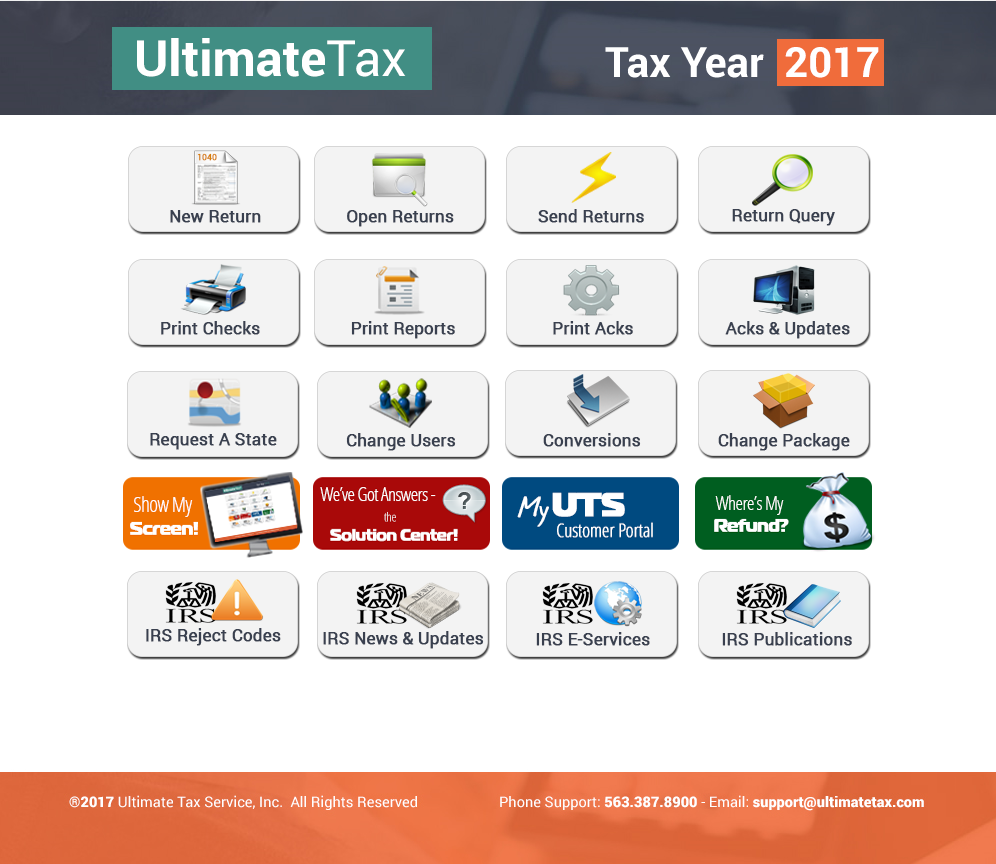 This information applies to all years of the UltimateTax software.