This can occur when a form is added to the return through the Interview Sheet.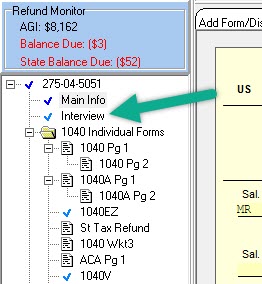 When certain answers on the Interview Sheet are marked Yes or No, it causes UltimateTax to load a form into the return for you to complete. You cannot delete that form from the return until you change the related answer on the Interview Sheet or remove the Interview Sheet altogether. Forms loaded into memory are listed in the Tree, but they have no check mark beside the form name.

You can change the checkbox to No, and the form should then be marked with a piece of paper in your Forms Tree. This signifies that the form is no longer used in the tax return.

Certain forms are automatically loaded into UltimateTax and cannot be deleted, such as Form 1040, the Main Info Sheet, and Form 6251. If these forms do not have a check or exclamation point, they are not being printed or e-filed with the return.
Also, if the form has information linked from another form, such as the Schedule D or Schedule EIC, the information flowing to that form makes it be loaded. If this is the case, you need to go to the supporting form and make sure that the information there is needed in the return.
This information applies to all years of the UltimateTax software.