2000-2015 
Note: Install program updates before downloading additional modules! For assistance, please see out article here.
To download state packages from 2000-2015, click the appropriate link below:
For years prior to 2013, please contact UltimateTax Customer Support at 563-387-8900 for assistance. This article will be updated at a later time to include additional prior years.
On each page, you will find the individual and business version of each available state module at it's latest version. To download, click the state you want and it should prompt a notification at the bottom of your screen. When it's done, click to Open and you should see a red screen like the one below.
From here, click Next. Then on the screen after, click Next again. A small installation screen may appear for a moment. When the process is finished, you will see the below notification.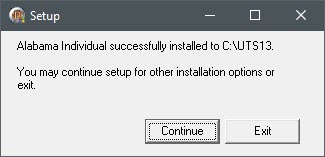 Click Exit on this screen. On the next screen, it will ask if you would like to view the ReadMe. Please click No to exit the installer. Your state should now be available! The installation process is the same for all states. Note: If you need states for 2015 and above, please see the article in our Solution Center here.