Aligning checks is an important part of the check printing process and is typically required before printing your first check. To align your checks, ensure that you have a set of blank check templates to print on so you do not use your actual check stock.
Print out blank check stock by logging into your UltimateTax software as an Admin. Once logged in, go to File at the top of your window and hover over Print, then select Print Blank Forms... from the drop-down menu. This will open a window where you can print your blank check stock.
Your first step should be to expand the Bank Forms option by clicking the + symbol. Next, highlight the Check Template (page 1) option and click the Add -> button to move it to the right pane. Lastly, click Print to print out the blank check templates.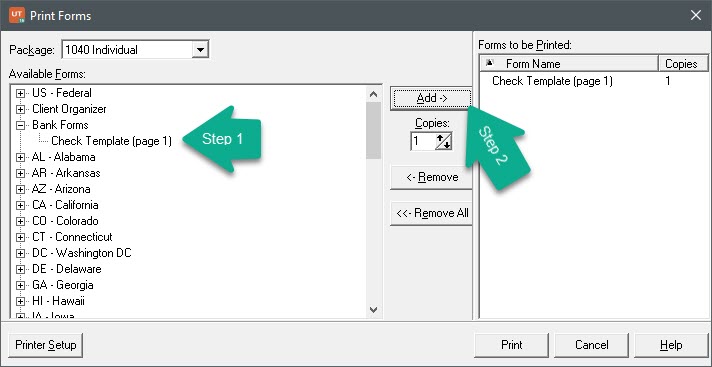 Once you have your blank check stock, it's time to align your checks! Do this by clicking Bank at the top of the window, then hovering over Maintenance/Setup. Then select Align Checks. A new window will open with instructions on using the horizontal and vertical arrows to adjust your print results. It may take more than one printing session to make adjustments, so take your time until you're happy with the result.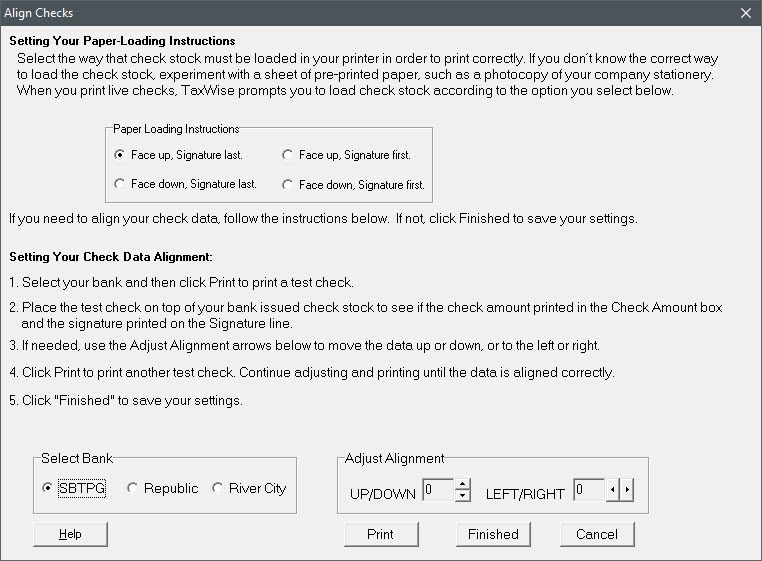 Solution Articles:
Setting Up & Aligning Printer in Online Check Printing - VIDEO INCLUDED
Tips for Successful Check Printing
(235) Current Check Printing Control File Is Not Installed...