If you are not receiving acknowledgements for your returns, this could be due to the following reasons:
Acks need to be pulled in - To do this, just click on the "Get Acks and Updates" icon on the main dashboard. This will start a transmission session to the EFC to get the most recent available acknowledgements.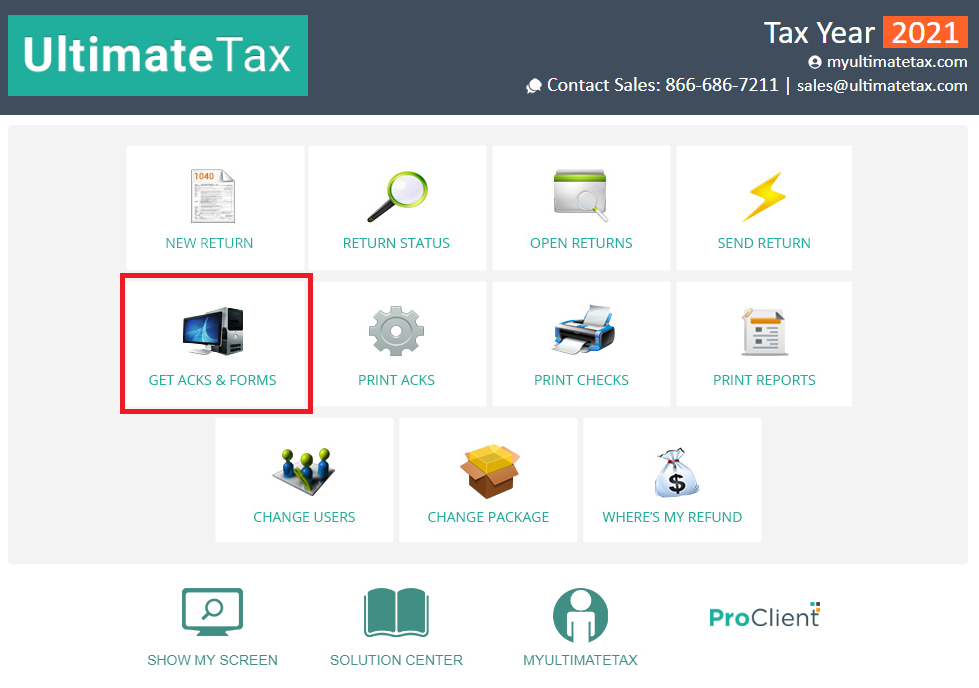 Transmitting from more than one system - If transmissions are sent from multiple computers that are not set up in a network configuration, this can cause ACKs to get mixed up and go to the wrong system. What happens is an acknowledgement cannot decipher which system they were sent from, so when a request is sent for them to the EFC, they will go to the most recent request, regardless of if the return is on that computer or not.
Bad Internet connection - A slow or unstable internet connection could cause acknowledgements not to pull in as it could time out when attempting to connect to the EFC.
Already processed - Acks are pulled in during almost every transmission sent to the EFC. It might already be updated and just was overlooked!
Not ready yet - Sometimes, the IRS or state takes a little while for the returns to be processed. There just might not be an Ack that is ready for the return.
If you have any other questions regarding an Ack for a return, please don't hesitate to call us at 563-387-8900 or chat in using the Live Chat feature on our website.
This applies to available years of filing the current year and the two years before the current. Older software can't get Acknowledgements.