Modernized e-File (MeF) provides electronic filing and payment options for filers of Corporations, Employment Tax, Estates and Trusts, Excise Tax, Exempt Organization, Individual, and Partnership Tax Returns. (www.irs.gov)
The MeF format was introduced to phase out the older format of legacy that was used before 2009. Corporate returns have been using the MeF format since 2004, and since then, the format has been introduced to Individual returns, Partnerships, and many others.
The following forms are currently able to be filed to the IRS in MeF format via the UltimateTax software:
Individuals - Form 1040, 1040PR, and related forms and schedules
Fiduciary - Form 1041
Partnerships - Form 1065 and related forms and schedules
Corporations - Forms 1120 and 1120-S
Employee Benefit - Form 5500
Exempt Organizations - Forms 990, 990-EZ, and 990-PF
Extensions - Forms 4868, 7004, and 8868 (Through the applicable packages above)
You can select which package you need in the window shown below when starting the program. Specific form types will be available when in the return.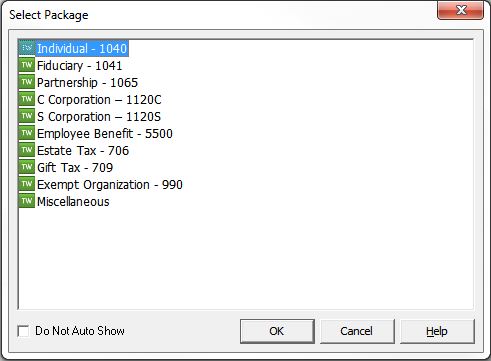 This information is good for all years of UltimateTax.